I've been seeing on Twitter and the blogosphere some recent claims that the USSR was the real unsung hero of World War II, because they did the most damage to the Nazis, and suffered the most losses, and we would have lost without them, and this achievement goes mostly unrecognised, so we should be more appreciative of what they did.
To which I just say: are you having a fucking laugh? They were on the Nazis' side for the first two years of the war. They only joined our side because the Nazis attacked them. They only fought the Germans because they had to, because the Germans were trying to take over their country. They didn't make the sacrifices the British did, fighting a war to protect Europe. They didn't make the sacrifices the Australians and New Zealanders did, coming half away across the world to do what was right. They were helping the Nazis, and carving up Eastern Europe for themselves like rapacious vultures. They were evil fucking bastards. We're talking Stalin and his cronies, remember? Some of the worst people who have ever lived. They would have lined millions of Brits and Aussies and Kiwis in front of brick walls and shot them if they could have done. So I say fuck the USSR.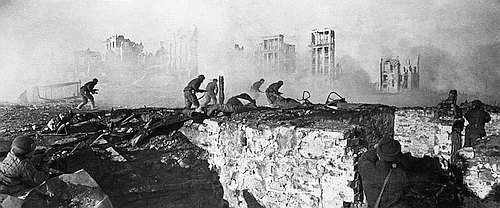 But yes, Russia did suffer enormously, and horrifically. Or rather, the Russian people did. Because Stalin was happy to sacrifice tens of millions of his own people to beat the Germans. None of whom he cared about in anything other than an abstract sense. In fact, not even in that sense. And the Russian people did show incredible courage in fighting the Nazis, that's all true. (Just as many of them did in fighting Stalin.) So actually, yes, let's honour them. Honour the Russian people for their big contribution to defeating the Germans. But I'll be buggered if I'll honour the USS fucking R for it.