"I didn't want my friends to see it, so I sold the photo of it to the papers"
Weird story of the week:
Hotel staff have apologised for creating a "horrifying" effigy of a dead footballer in an attempt at a tribute for his parents that went terribly wrong.
Whuh?
Karen Baker, from Hertfordshire, had arranged for staff from a five-star Jamaican hotel resort to dress a room for friends Faye and Andrew Stephens, whose son Alex died after falling from a balcony on holiday in 2014.

The couple, from Willesden, north-west London, were on holiday with Mrs Baker, Alex's godmother, to celebrate his birthday this week, a tradition they began after his death.

Instead of a heartfelt tribute, hotel staff created a life-size model made out of clothes lying on the hotel bed, holding a birthday cake.
The tribute definitely did go bizarrely wrong, judging by this photo: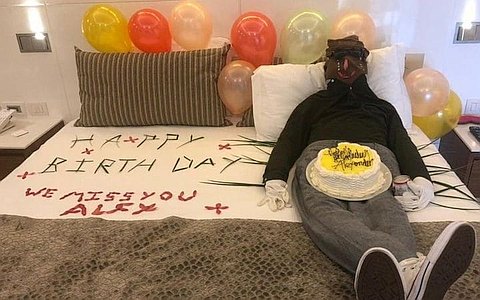 What I don't get, though, is if the parents were so traumatized by this stupidity, why have they gone to the media about it?
She told the BBC: "When I walked into the bedroom, all I can describe is a dummy body on the bed," she said.

"Staff had gone through my friend's wardrobe and stuffed the clothes with towels to make it look like a body on the bed. They even put tears down the face and a can of lager in his hand.

"I was absolutely horrified – as you can imagine I was sweating and shaking. We just didn't want our friends to see it.
"We didn't want our friends to see it", they say, which I can understand. Yet they're perfectly happy for the story to be on the BBC, and the photo — the photo you took — to be splashed all over the newspaper. If this was about your friends' feelings, why didn't you just play the whole thing down? Why drag it out and make so much of it?
The family have since received a full refund from TUI of £1,300 per person for the five-star holiday.
Perhaps there's an explanation there.