Who could fail to love that quirky Telegraph goofball, Bryony Gordon? She's so honest about her mental health problems, so funny about all the wacky things she's done, so empathetic with all those women who struggle with their weight and their sanity?
Well, I fail to love her. And here's why:
I was pleased, then, to see that the Advertising Standards Authority are to ban sexist TV adverts – not just out-dated portrayals of women doing the housework while their useless and lazy husbands slob around with their feet up (quite often the opposite happens in our house), but also on ads which suggest that not having an ideal physique might cause you to be a failure in life or love.
This is soft fascism. Actually, it's getting quite close to hard fascism. But I have my own name for this sort of thing — I call it 'screw-up fascism'.
Before I get onto her, I should say that the whole situation with the powers of the ASA (the Advertising Standards Authority), and the CAP (the Committees of Advertising Practice), who are behind this ban, is very murky. But that's a topic for another time. For now I'm just going to talk about this nasty little statist who tries to kid us all that's she's a warm and wonderful person. I particularly want to single her out because she's exactly the sort of person of influence driving this.
I am somewhat sympathetic to people like her, people who are unfortunate enough to live pathetic lives in a haze of anxiety and neuroticism because of the constant worry they have about their weight and their romantic prospects.* I'm a bit less sympathetic when they fill column after column with their self-pitying anecdotes. (And who could forget all the mileage she got out of a politician once calling her a 'slut'.) And that sympathy crumbles completely when it turns out that those same people want control over society and everyone else's lives and speech in order that life for sad people like them may possibly – and she admits it's only a small possibility – be slightly less sad.
How much more liberated would our lives have been – not to mention our boobs – if as teenagers we hadn't had to walk past Eva Herzigova's magnificently perky breasts and the slogan 'HELLO BOYS!' on the way to school every day.
This is – quite seriously – all it is. Bryony Gordon felt unable to compete sexually with one of the most beautiful women in the world (or, more accurately with a mere photo of the most beautiful woman in the world), therefore photos of that beautiful woman should be banned from being shown in public. This is exactly the sort of female-orientated Potemkin Village Fascism that currently rules our world. Comrade Gordon doesn't like it that there are more beautiful women in the kingdom than her, so she orders that no women who are better-looking than her be allowed in the kingdom, and no photos of them are to be displayed. This isn't any sort of basis for a free society. It's the politics of the wicked witch, or Stalin (although even Stalin, who had everyone who irked him killed, didn't resort to killing men who were better-looking than him).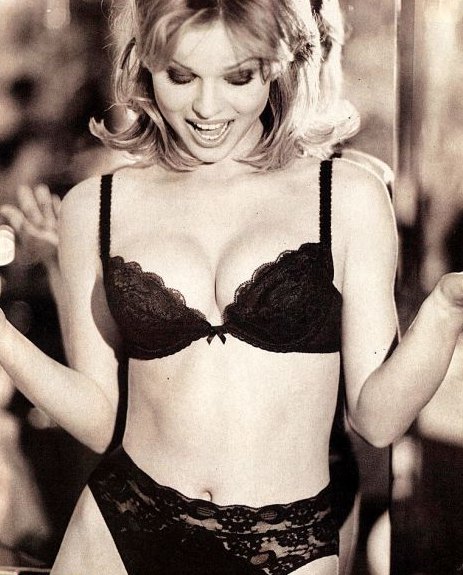 We are being ruled by self-obsessed screw-ups who want society changed to suit them. Like Caitlin Moran, another apparently lovable and witty screw-up who turned out to be quite a sour and bitter little fascist underneath it all, who wants revenge on the types of people who she blames for her life not quite going to plan. Don't let the self-deprecating humour fool you. These are Carries who come armed with jokes.
There's a theory around (can't remember who put it forward Update: William of Ockham informs me that it was Steve Sailor) that when you analyse what modern feminist writers actually want, the desired outcome always turns out to be a society in which they're regarded as hotter than other women. I would alter that slightly to say that the desired outcome is a society which just generally suits them.
Radios playing the sort of bland corporate pop they hate all day? Put them in charge and that will all be banned, and their sort of music will get large state funding.
They're piling on a few pounds? Well then, suggesting that anyone is overweight will be punishable as a criminal offence.
They can't handle the reality that they're not as good-looking as they'd like to be? Speech must be forcibly changed so that this truth cannot be expressed.
If you think this interpretation sounds a bit over-the-top, consider this:
The rules will also ban adverts that suggest that transforming your body will make you romantically successful
So not only is the ASA forcing advertisers to only portray the sort of world the ASA wants to see, they're even banning the presentation of truth. Because, like or or not, transforming your body does, ceterus paribus, increase the probability that you will have romantic success, as everybody knows. But Bryony Gordon, even though she also knows this, doesn't want anyone to talk about it, because it upsets her, and in case her daughter turns out to be a snowflake too, and it upsets her too. (And we wonder why millennials are like they are.)
A free society cannot function when we are at the mercy of the whims of people who are powerful and selfish but damaged, who see the world through the narrow prism of their own feelings (which is itself one of the main reasons why they can't cope with the world). We need to go back to being a society where screw-up fascists don't get to rule us.
*Though she never did sound all that sad when she used to tell her tales of being young and pretty and shagging the likes of Russell Brand. That always sounded more like she was having a fine old time.