If this guy clings on we'll know there are different rules for the Democrats.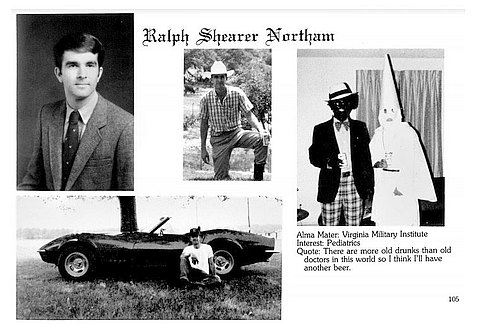 When I was at University, people – including people who become prominent and respected members of the community – would dress up as all sorts of things. It was all tongue-in-cheek. If someone put on blackface the black guys would think it was funny. Sometimes they'd white up. You'd sometimes dress as someone evil, like Hitler. It doesn't mean you approved the evil person. Usually you were making them the butt of the joke. Nor did the blacking up mean you were a racist. Now you can't even wear a sombrero without being accused of being a racist. (I had a friend at Uni who used to wear a sombrero everywhere.)
You know what I'm thinking? I'm thinking it's time for a big fancy dress bash where we all wear costumes that will trigger the lefties into a foaming rage. Perhaps someone could come as foaming-at-the-mouth leftie. Let's see sombreros, Nazi uniforms, blackface, KKK gear, slant-eyes, buck teeth, big fake boobs, Corbyn masks, saris, and so on.
You know how many ordinary people would give a shit about that? None. But then we'd post photos of it on the web, and watch the leftists go mental.
P.S. This goes back to Jim's comment about certain people who want power, whatever it is. The best way to get power when you don't have it, when you're struggling to break into the established power structures, is to make up new heresies, that you become the enforcer of. That's what happened with the fancy dress stuff, which no-one over the age of 30 took seriously even a few years ago.
Update: Apparently Northam caused controversy a few days ago with comments that some took to endorse infanticide, although some say he didn't. The 'liberal media'  mostly ignored it, although the Huffington Post took the trouble to explain that he didn't mean that. It looks like he didn't mean that,  but do you suppose HuffPo would take the trouble to defend Tump or Ted Cruz or Mike Pence in the same way?