At Richard Delingpole's Worcester Libertarian Drinks last month he showed me some of his artwork, which he had in the form of cigarette cards. These were amazingly good, and, for someone who grew up on war comics, a delight to look at.
I suggest you head over to his artwork website and purchase some yourself. The prices are very good. I practically had to force Dick to put a proper price on a pack of cards which I wanted to buy. Here's one from the pack that I've scanned: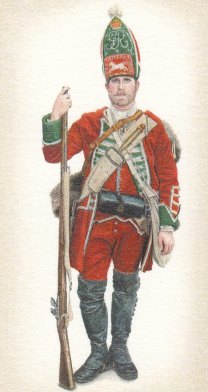 That brings me to the other thing I wanted to say. Dick reminds me of a professional sculptor/artist I know. Both are high quality artists, with real skills. Both make things that people like. But neither are bullshit artists. Neither are showmen. (Dick doesn't have the brazen chutzpah of his brother.) Neither fill their websites or catalogues with a lot of lofty abstract gas. (My friend has actually been forced to do a bit of that, but he keeps it to a minimum.) Both have an old-school modesty about them, where you let the art do the talking.
All this puts you at disadvantage in the modern art world. In fact, it always did, because self-promoters have always had an advantage in that world. But quiet craftsmen could still do well, up until modern art and then postmodernism took over the art world. Now the attention is all on those who make something terrible and then take a wizz on it, and then write some undergraduate bollocks about it, and their promoters then go spreading it around all their friends in the London and New York art cliques.
But, despite all that, my friend is still making a living outside of the trendy art set, selling to people who like good art but for whom a video of someone pooing on a Pope's hat with large important words superimposed over the top doesn't really do it for them. I hope that Dick also has success with his work, he deserves it, but that will require some word of mouth.
P.S. Dick's Worcester Libertarian Drinks, aka #ThirdWednesday, is on again tomorrow. See his Twitter page for details.