A tale of horrendous suffering in the Mirror:
A furious mum-of-two says her and her son were left shivering for 24 hours after being left with no heating or hot water.

Nicola Dickens, from Aplsey in Nottingham, is unimpressed with the amount of time it took an engineer to show up after her boiler broke down on a freezing cold night.

The 50-year-old, who has multiple health problems that affect her mobility and her day-to-day life, contacted Nottingham City Homes (NCH) on Monday morning after she woke to find the boiler had broken down overnight.
Our boiler started having problems over the Christmas/New Year period, which of course is the single worst time of the year to have boiler issues. Getting a repairman in was extremely difficult. I had to ring around multiple firms before I could find someone who could fix it before February, and he couldn't come for a few weeks. Meanwhile we had to sometimes turn the boiler off at night because of the problems.
So why does this woman merit a story in a national newspaper because the council took 24 hours to send in a repairman? Their heater got fixed the very next day. Try getting that level of service in the private sphere without paying an absolute fortune. I looked up some emergency repair firms who would come in straight away, and you're talking at least £500 just for a few hours work, plus hundreds more if the problem isn't straightforward. I bet this woman has more money in the bank than I do (because that isn't hard).
she had to wait at home and rely on a portable heater and boil hot water in the kitchen to use in the bathroom
I was doing that for weeks. Do I get my picture in the papers now?
Let's have a look at the compo face she and her son are pulling: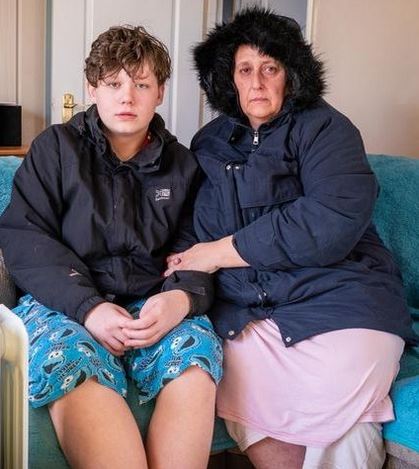 Very good. But wait … what's that her son is wearing? Is he wearing … shorts? Why, yes he is. He's frozen to the bone, apparently, yet he's walking around the place in shorts. My God, he's like Scott of the Antarctic. He's the Shackleton of Apsley.
(You've got to wonder whether the Mirror have run this nothing story deliberately because of that photo, thinking they can get some humorous attention from the internet.)
Update: If you read the comments you'll see that even the Mirror's readers aren't impressed.)