The media hysterics who run our lives in action:

I don't just blame the media who are, for obvious, attention-seeking reasons, loving this. I also blame the University system for giving us a generation of uncritical scientists. And millions of Humanities graduates who are sceptical of all the wrong things. And social media.
Everyone seems to think the Covid-19 figures are a horror story. They're here if you want to look at them. You can click on a lot of the countries and see the official stats for that country. The stats you really want are the graphs showing daily new cases, and daily deaths. But there are a few problems with these figures.
The small real-world numbers
One problem – one massive, enormous, elephant-in-the-room-sized problem – is that the current figures provide no basis whatsoever for the worldwide terror. In the UK so far we've had 177 deaths caused by the virus called Severe Acute Respiratory Syndrome Coronavirus 2 (SARS-CoV-2). Not 177 in the last half hour. 177 in total. This harvest of death that was going to decimate the population has resulted in … 177 fatalities. (There'll be a few more by the time you read this, but, I bet, not that many.)
1700 people on average die in Britain every day, which amounts to an average of seventy every hour. 177 people is the equivalent of two and a half hours of normal time. In the four months since the first Covid-19 case was identified over 200 000 British people have died, so the idea that Britain is now becoming overwhelmed with more dead bodies than it can cope with because of Covid-19 doesn't add up. Three times as many people have died in traffic accidents in that time. About ten times as many British people have offed themselves in that time.
Some other countries, of course, have worse figures. But not that bad. No zombie apocalypse. Some sad individual tragedies. Some loved grandparents, and my heart goes out to anyone who lost a loved one early. But no World War II figures. No Vietnam figures. Not even Iraq War figures. (As for Italy, those numbers are partly a result of massive illegal immigration from Wuhan, and partly an artefact of how Italy records death numbers; more on this soon. But still, Italy's figures are far less than one day's normal deaths.) This is a health crisis that requires more hospital beds and ventilators. It is not, however, Mars Attacks.
For example, how many Chinese people have died from all causes since mid-November? Over two million (over 7 million die in China every year). Even if China's covering up a mountain of Covid-19 deaths on an industrial scale, it's still just a blip. In the USA, about a million people have died in that period, so their 276 deaths is about 0.0276% of all deaths in that period (ie. about 1 in 3600 deaths are attributable to Covid-19).
In the whole world there have only been about 11 000 Covid-19 deaths. That's roughly 0.05% of all deaths in the world in those four months, about 1/20th of one percent. (Roughly 57 million people die each year in the world.)
So even if we take the official Covid-19 figures at face value, they provide no reason to trouble even the most keen actuary, let alone the rest of us.
The models
But, you will no doubt protest, the reason for everyone soiling themselves is not the deaths so far, it's what to come. The exponential growth that will be happening any moment now, sending deaths skyrocketing.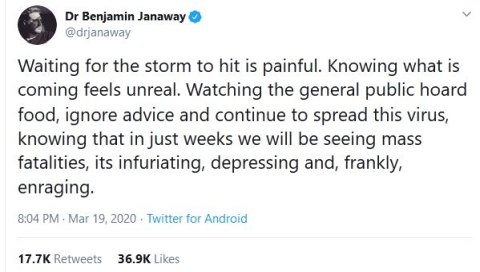 Except that we've been waiting for this skyrocketing growth for quite some time now, and it's not really happening. This virus has been around at least since mid-November, and probably earlier. Massive numbers of Chinese tourists from Wuhan have been travelling all over the world since then. And other people have been spreading it since then, with the usual mass travel from everywhere to everywhere happening too. This virus will have got around. Even the recent 'lockdowns' have only been very, very partial. We've had perfect conditions for this virus to spread over winter, yet we're still waiting for the mass deaths to start. This virus has had more than enough time to spread and start killing football stadiums' worth of people everywhere, yet it hasn't.
We've been seeing warnings for months now about it, yet the killing fields are always just around the corner. But spring and warmer weather in the northern hemisphere are also just around the corner. Are we really supposed to believe that the biggest hit from this disease is going to be April and May when winter says goodbye? Yes, I know there's been some research suggesting that the warmer weather may not slow things down so much, but that research is pretty tentative, not based on solid figures (because we don't have any solid figure), and out of line with what normally happens.
Communicable disease epidemics almost always rise and fall in a bell-shaped curve. That's what you rarely hear from the media. They're always talking about the exponential growth. What they usually fail to mention is that soon after the period of exponential growth, there's a plateau, and then an exponential drop-off. (This is sometimes known as Farr's Law.) With these sorts of diseases the curve usually follows the seasons, at least to some degree. Coronaviruses, as far as I can gather, typically die back by mid-spring (click to enlarge):
When we look at all the daily graphs from the various countries there's not much sign that the skyrocket is just around the corner. I don't trust China's figures at all, so I'm not going to mention them, but with most other countries we're seeing either a plateau, a mild recent increase, or a dying back. If you're an epidemiologist you may want to take issue with my analysis (and please do so if you want), but this doesn't look like a disease that is threatening disaster upon us all. It looks like a disease that is thinking of putting its feet up for the Easter hols. Perhaps there will be a few weeks increase in some places, some of which may look alarming at the time, but then, most likely, a dying off. Then maybe a new wave in the northern hemisphere in November-December. That's the time to prepare for. Get some more intensive care beds ready, and some ventilators built for then. Now is not the time for a shutdown and economic self-harm. Now is the time to make hay while the sun shines, and be prepared for when winter comes.
In other words, the horror stories are all in the modelling, not in real life. Sound familiar? This is what the climate change scam was based on. Scary computer models that somehow never got confirmed by real-life data, yet justified government and other institutions in grabbing more power for themselves. This is just another example, only a more effective one than climate change. Here's a scary-looking computer model, we have to be given wartime powers right now before it happens, if you wait we'll all be dead. It's the oldest trick in the book for the ruling class.
Infectious and deadly?
We're constantly told that the SARS-CoV-2 virus is highly infectious and highly deadly, relatively speaking, that is, compared to, for instance, influenza. This doesn't add up. As I've said, we know that the virus has been spreading since at least mid-November. If it's highly infectious, why aren't there more cases worldwide? Mass travel and mass tourism and billions of people packed together in big cities should mean that it's everywhere by now. Yet there's only been 285 000 people infected. 285 000 is about 0.004% of the world's population. That's not my idea of infectious at all.
But, it will be objected, 285 000 won't be the real number. No doubt millions of people have been infected, it's just that they don't know it, because they didn't show any symptoms, or the infection was mild enough that they didn't bother going to the doctor. This may well be true. But that totally undermines the idea that this is a deadly disease. If millions of people have it, or have had it, and they're all okay (with perhaps a week off work or school for some of them), then the scary death rates of over 1% are blown out of the water. If, say, 11 million people have had it in reality, then that does make it more infectious (although that would still only be 0.14% of the world's population), but that brings back the mortality rate to 0.1%, which is not scary at all in the communicable disease context. It's about one in a thousand, around the same as flu. Even if we halve the number infected, we're only talking a 0.2% death rate, which is tiny, plus we've halved the infectiousness of it.
So either this disease is not as infectious as feared, or it is, but it's not as deadly. I can't see how it is both, based on the number of deaths that have occurred this winter.
It may be objected that I am not taking proper account of hot spots. For example, it might be said that the number of deaths in Italy looks much worse if we just consider it in the context of Northern Italy, not the whole of Italy. Imagine then if it spread to the rest of Italy, and those numbers are then multiplied numerous times for the various regions.
This is a fair point, but it again underlines my point about infectiousness versus deadliness. If Covid-19 in Italy is mainly confined to parts of Northern Italy, and hasn't yet spread much in the rest of the country, then it can't be that infectious. As I've said, the relatively small number of deaths tells us that SARS-CoV-2 is unlikely to be both infectious or deadly. It may be one or the other (or it may be neither), but it's not both.
Children and the elderly
Here's another thing. How many children have died from Covid-19? Virtually none. According to Worldometers, there have been no deaths in the 0-9 age bracket. Possibly a few have died since this was published, but from all reports death in this age bracket is virtually unheard of, and also very rare in older children too. Ask yourself: what kind of deadly disease is it that is so undeadly to young children, traditionally one of the most vulnerable groups when it comes to serious disease? Covid-19 is almost exclusively a killer of old people with underlying heart and lung conditions, or people with compromised immune systems (eg. cancer patients undergoing chemotherapy). But we know that these people are killed by even mild rhinoviruses. So most likely a lot of these deaths are deaths that were going to happen soon anyway. That's not evidence to show that coronavirus is especially deadly. And there's no evidence that coronavirus provides much of a threat to other people. In fact, the evidence we already have tells us that it isn't (and even that evidence is probably vastly overstating the dangers, as we're only looking at confirmed cases, which is probably only as fraction of the real cases).
That's not to say that it's all right that your sick grandmother dies three months earlier than she would otherwise have done. We don't want that. But, realistically it's not worth shutting down the world's economy just to possibly give a tiny percentage of the world's population a possible few extra months.
And how are such people going to cope in a chaotic environment with a ruined economy? There's a very close link between life expectancy and the health of the economy. If we shaft ourselves economically that's likely to have a lot more in the way of bad effects on at-risk elderly people than Covid-19 will. How do we pay for the necessities when there's no money? It's not like most Western countries have prepared for such occasions by building up surpluses during the good times. No, as we all know Western governments are all massively in debt, and constantly run large deficits, and most people have no savings and a lot of personal debt. How are you going to pay for that care home your parents are in when you lose your job? How are you going to pay for the care home you're about to go into when your pension disappears in the stock market crash? How are care homes going to pay for quality care when the money stops coming in? If the cleaning staff don't come in because there's no money pay them, then diseases multiply, and the residents start dying in droves. If we really care about the elderly we owe it to them to keep the economy strong, otherwise more of them are likely to die.
Is the cure worse than the disease? Yes. A thousand times yes.
My view is that the shutdown is an insane overreaction to a nasty but not especially deadly disease. The cure is massively worse than the disease. We need to stop this government irrationality as soon as possible, and open the bars and restaurants and shops, re-open the schools, and get life to normal as much as we can, while enforcing quarantine on anyone with the disease (even this probably won't achieve much, but it will make it seem like the government is doing something, so as to satisfy the Piers Morgans).
Update: Similar thoughts from Peter Hitchens here.
Share this article on social media: