This is a guest post by Simon Anthony, a one-time theoretical physicist.
One of the complications in trying to understand the behaviour of Covid-19 is that data is, for obvious reasons, almost invariably associated with countries.  Viruses don't necessarily respect arbitrary boundaries so it can be helpful to look at the data in a way which may be more relevant to its geographical rather than national distribution.
An obvious variable which may affect C-19's behaviour is latitude.  While there seems to be little known with certainty about exactly how weather affects viruses (several mechanisms have been suggested; all sound plausible but none seems to have been properly investigated), flu pandemics are strongly seasonal and it's reasonable to assess whether C-19 might also be influenced.
In an earlier post I looked at the overall mortality rate attributed to C-19 as a function of latitude and found a peak at ~50 degrees north, with the rate falling close to zero outside a range between ~30 and ~60 degrees (the latter perhaps because of the almost complete absence of human habitation that far north).
I thought it would be interesting to look at how the infection has varied with latitude over the couple of months since it began to spread.  I estimated the mortality rate for each latitude from the number of deaths for each day and the populations of countries at that latitude.  I found the latitude with the daily peak mortality rate and also the daily average latitude (weighted by mortality) from when the outbreak began to move beyond China, up to 25th April. (I averaged mortality data over a week so as to partially counter "weekend effects" and other reporting distortions).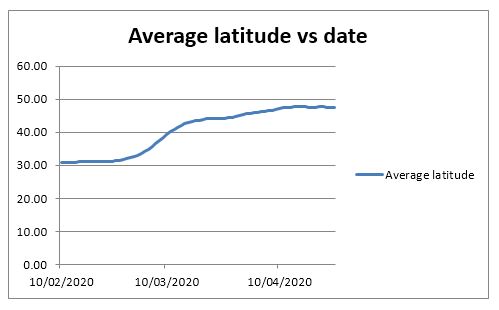 As might be expected, both charts show the "locus of infection" moving fairly monotonically northwards.  Over approximately 10 weeks the peak has moved north by about 20 degrees and the average by about 16 degrees.  During the same period the sun's declination (angle between the equatorial plane and a line joining the centres of the Earth and sun) has moved ~28 degrees north.
If the sun didn't influence, directly or indirectly, the pandemic's progress there'd be no reason to expect a correlation between its position and the areas affected by C-19.  In practice, it turns out that both sun and C-19 have been moving in the same direction, albeit with the sun moving faster.
As every fule kno, correlation doesn't imply causation but causation does require correlation.  In six months or so, it will become clear whether there's actually a significant seasonal component to C-19's behaviour; so far the evidence is in favour (or, at any rate, not contradictory).