This is a post by Simon Anthony, a one-time theoretical physicist. Congratulations are due to Simon, as he has had an article published in The Critic, Britain's hottest new magazine. Recently two regular contributors here (if you can call me that) have been published in The Critic, so if you fancy yourself as a writer, this is clearly the place to cut your teeth. Submission information here (it doesn't have to be a technical article on Covid. It could be, say, an historical article on the origins of the dressing gown. Or whether the flute is superior to the clarinet, either in music or in hand-to-hand combat.)

The effect of lockdown on the spread of C-19 has been, to put it mildly, hotly debated. Many contributions to this debate have been misinformed, misleading and disingenuous, based on a weak understanding of how infectious diseases spread. In this piece I'll try to clear up some of those misconceptions, particularly how they affect lockdown and its aftermath.
1: As many people die after lockdown as would have died if there hadn't been a lockdown
This is incorrect. If the disease spreads at all before lockdown, the eventual mortality following lifting of the lockdown is lower than it would be without lockdown. This is a picture from a model of the spread of a disease with an R0 (number of people infected by each infected person) of two in which no lockdown is imposed. There's a single peak in the number of infections and a stable point is reached when ~80% of the population has been infected and 'removed' so they're no longer susceptible – they've either recovered or died.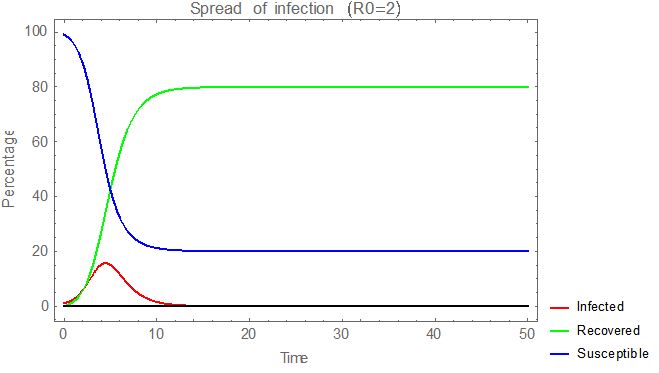 Here's the same model, same R0, but with a period of lockdown imposed shortly after the infection appears.
Where there was originally a single larger peak, now there are two peaks, the first at the initial outbreak separated by the lockdown period after which there's a second peak.
In the this case, a stable state is reached with ~70% of the population having been infected.
This is an example of a general result: a lockdown period reduces the final number of infections (and hence mortality).
2: For a given R0, herd immunity occurs when a particular fraction of people have been infected
This is untrue.  Obviously, item 1 above shows this not to be the case. Two different scenarios led to stable final situations with different numbers of people having been infected and recovered. In the no-lockdown case ~80% of people were infected while under lockdown only ~70% of people were infected.
The reason this happens – that more people are eventually infected when the infection is allowed to run unchecked – is that the peak of infections is much higher so that, even when the number of infections start to fall, there are still so many infected people that the infection overshoots its optimal level. More people are infected than is strictly needed for herd immunity.
The optimal fraction of the population to be infected so as to give herd immunity in an SIR model is (1 – 1/R0). In the case when R0 is 2, optimal herd immunity requires 50% of the population to be infected. Any greater fraction doesn't improve herd immunity but does kill more people than "necessary" to achieve herd immunity.
In both examples above, more than 50% of people were infected. Is there some way to infect only the optimum number and minimise the death toll while reaching herd immunity?
Here's an example in which herd immunity is reached at ~50%, the optimum level: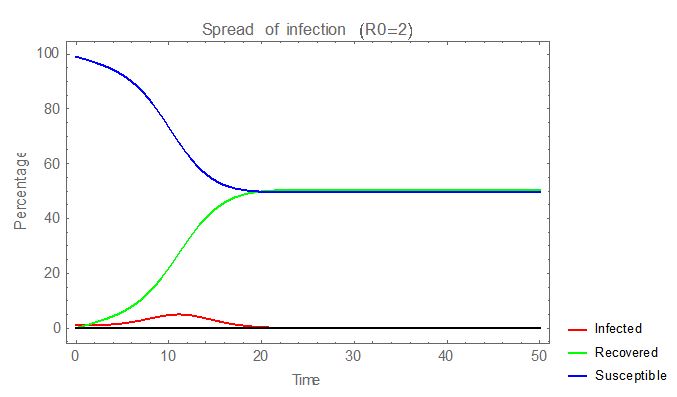 In this case the lockdown is gradually decreased, effectively increasing R0 slowly enough so that the number of infected people at any time is never large enough to allow overshoot. In practice it's obviously very difficult to control R0 in such a way: you can't be sure what its value is at any time and relatively small changes can lead to very different outcomes. Nonetheless, as a general principle, gradually reducing lockdown is likely to lead to fewer infections (and consequent deaths) than removing it in one step.
The reason why the optimum value for herd immunity occurs with the number of infected people equal to (1 – 1/R0) is explained in my earlier post on "Covid-19: Myths, misunderstandings and omissions". In item 3 of that post, I showed that the number of new infections stops increasing when S/P = 1/R0, that is, when the susceptible fraction of the population is equal to 1/R0. But, once the situation has stabilised, if the susceptible fraction at that time is 1/R0, then the remainder – those people who've been infected by the disease and recovered – is (1 – 1/R0).
3: The second peak after lockdown will be bigger than the first
This is sometimes true and sometimes not. By adjusting the timing and duration of lockdown, the relative sizes of pre- and post-lockdown peaks can be changed. Here are examples, both for R0 = 2, the first with a higher pre-lockdown peak, the second with a higher post-lockdown peak.
The difference is that the lockdown in the second case was imposed sooner than in the first case, so the initial peak wasn't as high, leaving a greater number of infections for the post lockdown period.
Whether we're currently in a situation like the first or the second of these cases is hard to know but it might be possible to make some deductions using the available test data.
Share this article on social media: