An article by Daphne Havercroft. In 2015 Daphne retired from a career as a senior project and service delivery manager for a global IT services corporation. She has seen and experienced the very best of NHS care, delivered by skilled and caring health professionals, and also the worst of the NHS, particularly its leaders' callous attitude towards the elderly, which has been exposed for all to see during Covid-19. Her Twitter account is @DaphneHavercro1, and her blog can be found here.

The Office of the Public Guardian says that:
A lasting power of attorney (LPA) is a legal document that lets you (the 'donor') appoint one or more people (known as 'attorneys') to help you make decisions or to make decisions on your behalf. This gives you more control over what happens to you if you have an accident or an illness and cannot make your own decisions (you 'lack mental capacity').
Therefore it follows that having an LPA should give people more control about what happens to them if there is a virus pandemic, such as Covid-19.
But does it?
It depends on whether attorneys understand their legal obligations and powers and, most importantly, whether they are prepared to act upon them in the best interests of the people who appointed them.
On 3rd April 2020, the Care Quality Commission published this: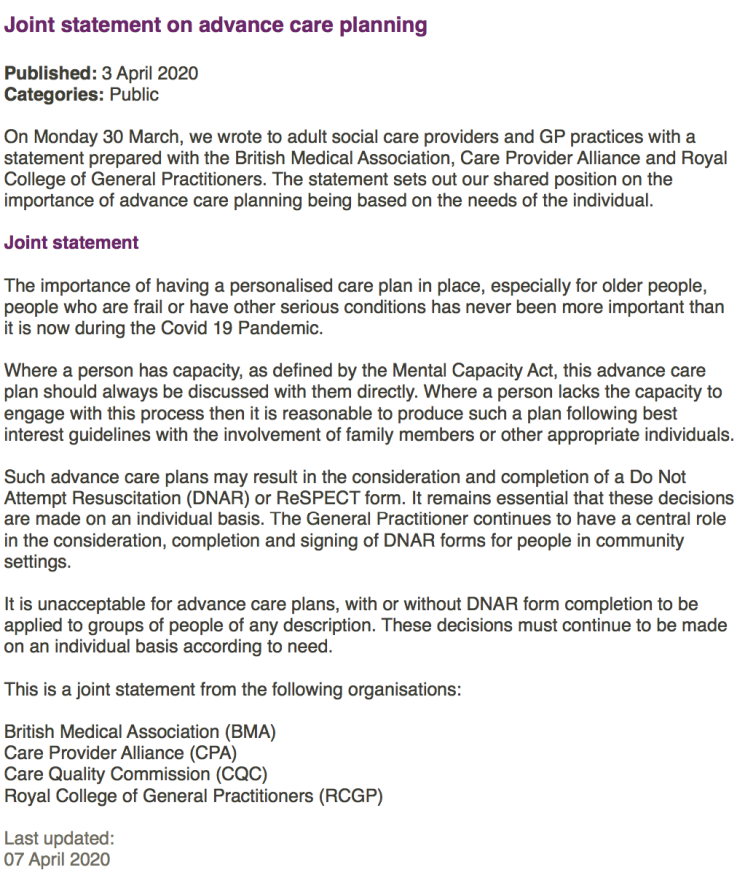 This statement seems to have been mostly ignored because we have seen reports alleging that care home residents have been subjected to blanket DNAR (do not attempt resuscitation) orders, and family members have spoken about care homes blocking them from visiting and supporting distressed, vulnerable relatives.
The second paragraph of the joint statement stresses the importance of having a personalised advance care plan. It slyly refers to the possible involvement of 'other appropriate individuals' without being clear that this means attorneys appointed under LPA. Attorneys can be solicitors, but in many cases they are family members and their legal powers are the same as a solicitor who is appointed attorney under LPA.
Attorneys can only make best interest decisions on behalf of a donor if the donor lacks the mental capacity to make a specific decision at a particular time. One of the conditions that can affect a person's mental capacity is dementia. It is known that dementia increases the risk of serious illness and death for a patient exposed to Covid-19. [Hector: Or at least to lockdown conditions.]
Therefore when a person with dementia has an LPA, it is essential that their attorneys assert themselves to ensure that they are supported to make an advance care plan which reflects their wishes about how they want to be cared for, including decisions about resuscitation, family visits and whether they would want to be admitted to hospital if they were taken ill with Covid-19 or other potentially life threatening illness.
Time is running out. Matt Hancock is threatening the population with a 'second wave'. Attorneys, don't let your relative's right to control what happens to them be swept away by it.
Update: Apologies for the lack of posting in the last few days, basically it's been a storm over on Twitter recently and I have been glued to the keyboard for 18 hours a day battling it out over there. Spending some more time here from tomorrow, though (it is a vastly more civilised place here).
Share this article on social media: