This is an article by John Church. John is an oil and gas professional and has spent some 30 years working for one of the biggest oil companies in the world.
There is a lot of consternation right now about the increased restrictions related to limiting gatherings to six people or less. This has come about due to a focus on positive case numbers. Not hospitalisations or deaths, but just positive test results. But how worried should we really be about the increase in cases ? How many people actually have had the virus in this country and when did they have it ? And where might this go from here ? If this is the so called deadly second wave, what does the wave look like compared to the first ?
In the early stages of the epidemic almost all the tests were being done on people presenting at hospital, some of whom subsequently died. Now there are relatively few presenting at hospital with very few deaths, and almost all the positive test cases are out in test centres where people go who think they may have become infected. To work out how many people might have or have had the virus, I would propose to use different methodologies for the two 'waves'.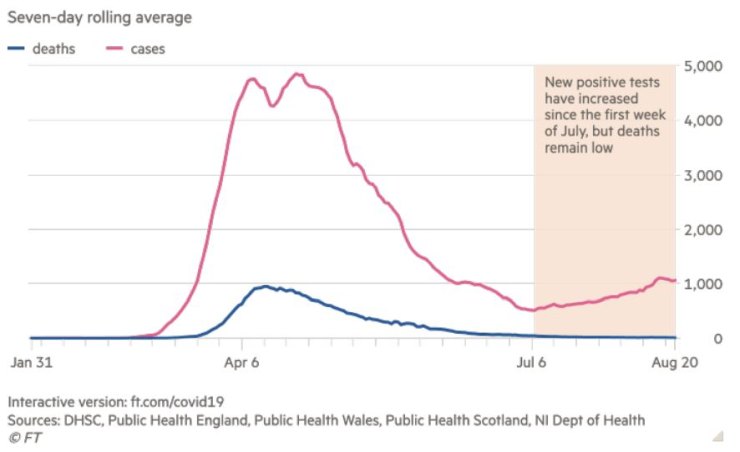 Infections up to the end of June
In April I submitted a couple of posts regarding Infection Fatality Rate (here and here), which calculated the UK IFR at around 0.5%. The range globally, based on differing demographcs in various countries is about 0.1% -0.7%. The younger the population, the lower the average IFR. Globally the average is ~ 0.2% Around 40,000 people had died in the UK of (or with Covid-19), up to the end of June. If we exclude the one-third who died in care homes as they are a very specific age concentrated population, the approximate number of UK community deaths would be around 25,000. With the assumption that the UK IFR is indeed ~ 0.5%, this equates to a total number of UK infections of around five million. This is how many people were infected with Covid-19 up to the end of June.
Infections from early July onwards
Based on the number of actual infections as measured by tests from July onwards, there have been approximately 70,000. This is likely an underestimate as it is reported that 80% of infections are asymptomatic, so unlikely being picked up in test centres. A very simple mathematical approach would then use the assumption that all people who show symptoms are recorded, whereas none who are asymptomatic get tested, leads to a view that since early July we should have a total number of infections of about 350,000.
What does this mean ?
Well, observationally it means we have a lot less people infected now than we did earlier, by a factor of about fifteen. Not very many. In June I submitted a post (based on observations) on why population immunity seemed to kick in at around 20% infection levels. This has been widely discussed over the last few weeks related to prior T cell immunity in large percentages of any population. But it gives us a handle on how far we might need to go before Covid-19 ceases to be a problem in the UK. If the 20% number is true, it means we would need to have around 12 million people infected before the disease truly goes away. So far, based on the above we might expect to have already have 5.35 million infections. So we might still have 6 or 7 million to go. It's not rocket science to work out that we will get to population immunity more quickly at higher infection rates. A measured infection rate of 2000 a day (10000/day total assuming 80% asymptomatic) gets us there in 2 years. If we panic every time the measured infection rate goes above one or two thousand per day, it's going to be a very long couple of years. However, if we let that increase tenfold it would be ~2 months. That's a much shorter time for elderly and at risk people to remain cautious and isolated. Maybe we need to get over the mental hurdle that we want to suppress infections by limiting social interaction and periodically locking us all up, and actually let society deal with this the traditional way. By letting it spread, especially via our youth, and accepting it as part of life. Kind of like the way they did it in Sweden.
Update: Hector writes: With different figures in there we get different results. For example, suppose the IFR is more like 0.1%, as I suspect it really is. On the other hand, suppose that Covid deaths have been over-counted (as I suspect), and only 15,000 people have died in the community. That means that around 15 million have already had it, which means we may be at herd immunity already. Doom merchants, on the other hand, may say 1% IFR x 25,000 deaths = 2.5 million infected so far, and they'll claim that herd immunity is much higher than 12 million. They may say it's 60% of the population, which is 40 million. So they're going to think herd immunity is impossible, although that doesn't preclude us just living with it. That's better than the insane zero-covid strategy.
Update 2: Please support this website by donating via KoFi, subscribing via SubscribeStar or Patreon, or buying my book (see right-hand sidebar for links). Independent media like Hector Drummond Magazine, and my constantly updated Twitter and Parler accounts, cannot survive without your support.
Share this article on social media: