This copper's justification for this ridiculous bit of heavy-handed policing by Derbyshire Police is pure police state reasoning:
By AndyRozza's logic, any time the NHS gets full then we're into police state mode, where no-one, except the police and essential workers, is allowed outside. We're only free to leave the house if there are available NHS beds, in case we have an accident. If we can't treat you if you cut your hand or bang your head or fall off your bike then you'll have to stay inside for your own and others' safety. The bureaucrats can then determine when it's safe for the police to let you go outside.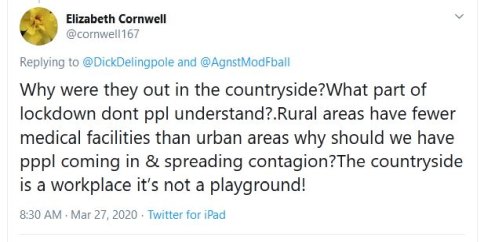 I've always noted that a national health service provides authoritarians with an excuse to punish behaviour they don't like. You can see that when health puritans start to talk about how we should think about not allowing smokers or drinkers to access NHS services. That's never quite taken hold, because the UK is not that bad a country, but the current lockdown is providing a good chance for the Covid Nazis to start pushing the police state they've always longed for. And now they have the Corana Police on their side.
Update:
Share this article on social media: