This is a guest post by Robert Watson. Robert is a retired Professor.

This post analyses the ONS England & Wales weekly data relating to 'COVID-19' and 'All other causes' of deaths (Total deaths – Covid-19-attributed deaths) for the weeks 11 to 16. The purpose of the analysis is to assess the relative deadliness of COVID-19 vis-a-vis all other causes of death and to evaluate whether the pattern of COVID-19 deaths in terms of age and sex cohorts differs significantly from the relative frequencies observed apropos 'all other causes of death'.
Essentially, two main empirical questions are addressed. First, do COVID-19-attributed deaths appear to be a 'new' source of deaths that results in a large and possibly permanent increase in total deaths relative to existing death rates from all other causes? And second, to what extent does the pattern of COVID-19 deaths differ significantly from, or simply replicate, existing age and sex cohort fatality patterns?
Spoiler Alert
The analysis indicates that:
(i) whilst COVID-19 is most certainly a new cause of death, its victims are predominantly older men (75+) and very elderly women (80+); as both these cohorts are already very small (particularly so in the case of males) and also suffer from very high rates of death from all other causes, COVID-19 deaths only make up a small minority of the deaths (many of which would have occurred anyway within a few months); hence, it seems highly unlikely that COVID-19 will result in a long-term increase in death rates even amongst these vulnerable age cohorts.
(ii) Covid-19 does not kill off young people at all or even the middle aged to any significant extent; indeed, the pattern of deaths largely replicates existing patterns of deaths from all other causes; moreover, COVID-19 actually marginally reinforces the existing pattern of early male death rates
and the very high death rates experienced by the very elderly of both sexes;
(iii) as a new 'killer' disease, COVID-19 has the benign characteristic of choosing its victims from the already elderly, i.e., it is best seen as reinforcing the natural order of death; essentially, is there an alternative age cohort that one would rather this new disease decimates?; COVID-19 really would be a human life game-changer if it drew its victims from the young and/or otherwise healthy people in their prime of life!
(iv) If the blither being put about in the media that 'every life saved is worth it' really is to be taken seriously, then it is clear that we ought to forget about COVID-19 and instead throw vast medical resources at trying to reduce the existing massive premature slaughter of males in their 40s, 50s and 60s.
COVID-19: initial analysis of the ages and sex of its victims
The ONS does not currently have and/or publish information relating to the within-age and sex-cohort differences in pre-existing health status. In consequence, this analysis of relative COVID-19 mortality rates can only be based on the average for each sex and age category.
(Knowledge of the pre-existing health status of the COVID-19 fatalities relative to other members of their age and sex cohort would be beneficial in identifying, treating and advising those individuals most exposed to additional mortality risks.)
The time period, weeks 11 to 16 inclusive, was chosen due to week 11 (week ending March 13) being the week in which the first alleged COVID-19 death in England and Wales occurred, and week 16 (week ending April 17) being the week with the most recent figures to be published by the ONS (on the 28th April). The ONS provides weekly data relating to Total Deaths From All Causes and a separate COVID-19 Death count. In what follows, it has been assumed that both the Total Deaths From All Causes and the COVID-19 Deaths are correct. Even though, in relation to the latter, due to a lack of 100% testing for COVID-19 and the fact that a substantial majority of the alleged COVID-19 fatalities also suffered from other serious medical conditions at the time of death, it is less than certain that all of the COVID-19 assigned deaths were in fact due to COVID-19.* Nevertheless, all COVID-19 assigned deaths were deducted from the ONS total deaths from the all causes figure in order to obtain our benchmark comparison 'deaths from all other causes' numbers.
(*For instance, from the 28th April data release, 'Because of the coronavirus (COVID-19) pandemic, our regular weekly deaths release now provides a separate breakdown of the numbers of deaths involving COVID-19. That is, where COVID-19 or suspected COVID-19 was mentioned anywhere on the death certificate, including in combination with other health conditions.')
An initial analysis of the week 11 to 16 ONS death data indicates that COVID-19 deaths were largely restricted to older males (75+) and females (80+). See the table of figures and the chart below, which suggest that COVID-19 fatalities appear to broadly mirror existing death patterns, i.e., the large majority of deaths occur in the oldest age groups, and that COVID-19 tends to kill 50% more males than females and at a somewhat younger age. What this analysis is unable to establish, however, is the fatality rates in terms of deaths per 1,000 of each of the relevant age and sex cohorts. This turns out to be of some importance due to the relatively small size of these age and sex cohorts.
Comparative Deaths per 1,000 Analysis
In order to obtain a metric of deaths per 1,000 of the relevant age-sex cohort, which is required to make a valid comparison between the relative importance of all other causes of death and COVID-19 deaths, it has been necessary to obtain the estimated ONS projections for mid 2020 (published in October 2019) of the population distributions by age and sex of England & Wales. These are reproduced in the table below, along with a chart that provides a graphical representation of the data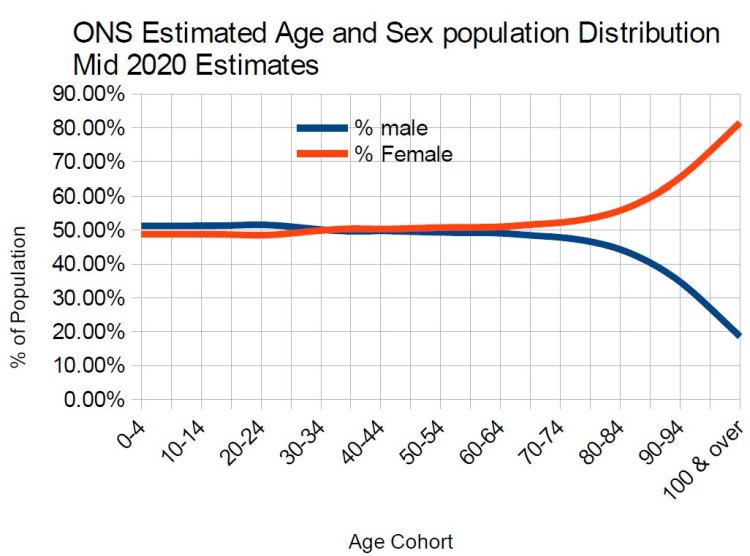 For the overall population of England & Wales, there is a slight sex imbalance insofar as there are projected to be approximately 643,800 more females than males (50.5% and 49.5% respectively). This sex bias is, however, clearly not constant throughout the age cohorts. In common with the rest of the world (see https://ourworldindata.org/sex-ratio-at-birth), at birth and right through to the mid-30's year old cohort there is a majority of males in England & Wales. At age cohorts greater than the mid-30s there is an increasing majority of females such that by the oldest age cohort of 100 and over, there are respectively only 18.5% males and 81.5% of females. Different patterns of male and female net migration could of course be partly responsible for this increasing feminisation characteristic of the older cohorts.
However, as will be shown shortly, by far the most important factor is the much greater premature death rates suffered by males vis-a-vis that of females.
Note, the age cohorts differ slightly between the two individual ONS data sources. It was therefore necessary to split the 0-4 into two separate categories (<0 and 1-4) and to aggregate the oldest three categories (90-94, 95-99, and 100 and over) into one new category (90+) to render the two datasets comparable. These 20 revised age cohorts were used in all subsequent analyses.
The table and chart below show the deaths from all other causes (i.e., excluding COVID-19) per 1,000 of the relevant age and sex cohort. From 15-19, males experience higher death rates than their respective females for all age cohorts. Deaths per 1,000 for males are below 1 in 1,000 up to the mid 60s age cohort and then rise quite steeply to 31.2 per 1,000 for the oldest 90+ cohort. The 1 in 1,000 deaths from all causes (excluding COVID-19) for females is not reached until approximately 70 years old and then rises steeply to approximately 28.3 per 1,000 for the 90+ age cohort.
The chart below represents these patterns in graphical form. The red line represents male deaths from all other causes and the yellow line the female deaths.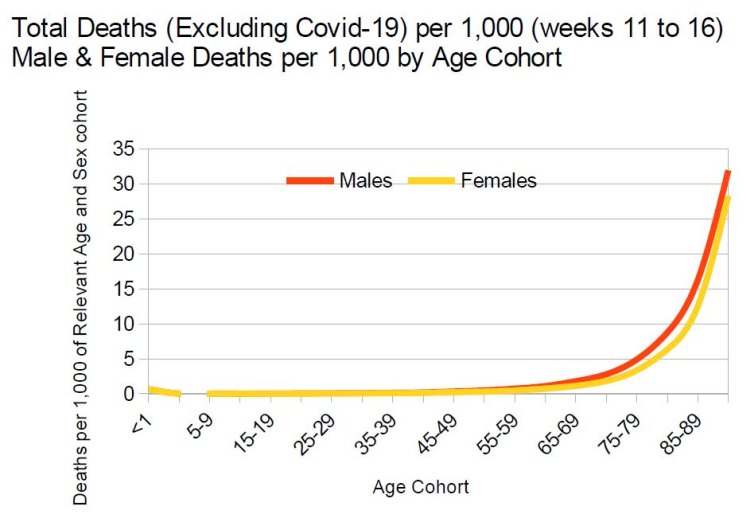 The alleged COVID-19 deaths per 1,000 by sex and age cohort are detailed in the table below.
This presents a very similar pattern in terms of age and sex as for the all other deaths figures: males die off in greater numbers and at earlier ages than females and both sexes die off at increasing rates per 1,000 as we rise through the age cohorts.
Importantly, however, COVID-19 deaths per 1,000 are all much lower than for all other causes of deaths. For example, even for males in the oldest age cohort (90+), the COVID-19 deaths per 1,000 are only 8.4, whereas all other deaths for males in that age category are almost 32 per 1,000, which renders COVID-19 approximately 4 times less fatal than all other causes of death for males. Similarly, in regard to female deaths from COVID-19, from about the age of 60, males have around double the death rate from COVID-19 than that suffered by females. The 4.8 COVID-19 deaths per 1,000 suffered by the 90+ females is only around 1/6th of the death rate suffered by females in this age group from all other causes. Hence, COVID-19 deaths are generally of minor importance when compared to deaths from all other causes and that in regard to females, being fearful of COVID-19 is even less warranted than it ought to be in respect of males.
Finally, when Total Deaths From All Causes (including COVID-19 deaths) are tabulated by age and sex cohort, it can be seen that death remains a relatively rare occurrence for both sexes prior to the age of 60; approximately 1 in 1,000 for males at age 60 and slightly under 0.6 per 1,000 in respect of females of the same age. Relative death rates rise exponentially past this point for both sexes but at an even faster rate in regard to males, such that the highest age cohort has deaths per 1,000 of 40.4 and 33.1 for respectively males and females. This asymmetric sex pattern is evident from the graph below: compared to the total deaths (excluding COVID-19) functions, the sex specific total deaths (including COVID-19) functions become slightly further apart as age increases.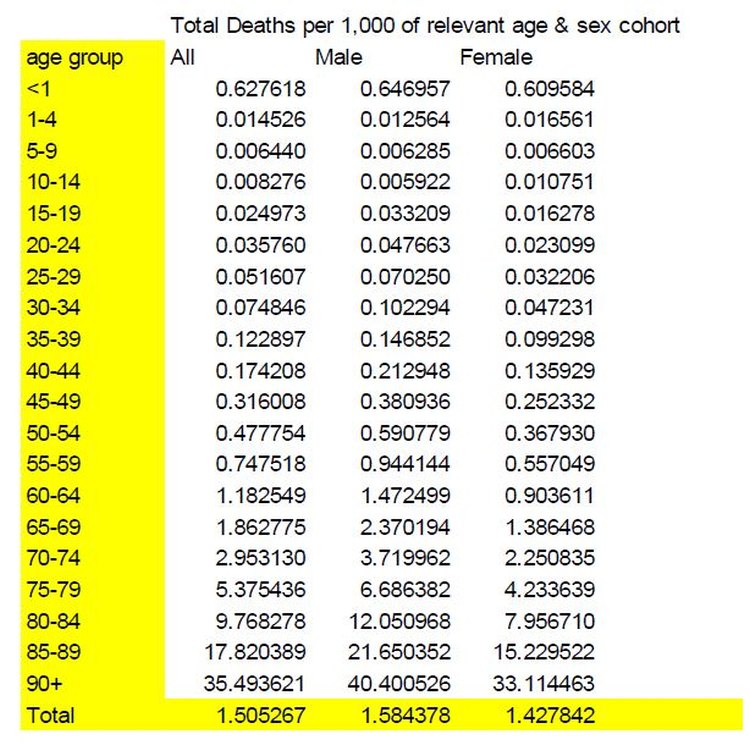 Incremental Impact of COVID-19 by Sex and Age Cohort
Below is the graph of Total Male Deaths Excluding Covid-19, the blue line, compared to Total Male Deaths Including COVID-19, the red line. Only after around the age of 70 is there any real difference (approximately 1 in a 1,000 difference) in death rates between the two functions. By the age of 90, the red line has an extra 8 deaths per 1,000 differential.
Below is the comparative female total deaths function (the red line) compared to the total deaths excluding Covid-19 function (the blue line). Here, it can be seen that the 2 lines are very close together. This reflects the fact that it is only after the age of 80 is there a 1 in a 1,000 increase in female death rates associated with COVID-19. This differential death rate only increases by 4.8 deaths per 1,000 in the 90+ age category.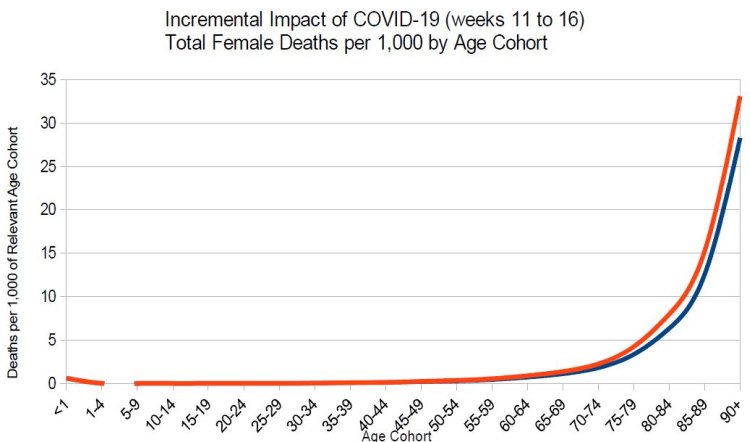 In Conclusion
Covid-19 does not appear to be a significant new cause of death for the vast majority of the age range of the population of England & Wales. Indeed, deaths from all other causes swamp COVID-19 death rates even amongst the very oldest males. Female COVID-19 deaths are of even less significance than for males in that over 60% of female Covid-19 deaths occur in females 80 or more years old. As such, COVID-19 death rates appear to largely replicate (indeed, reinforce) normal or 'natural' death patterns, i.e., the elderly males and very elderly females are the only groups significantly impacted by COVID-19. In a less hysterical world, COVID-19 wouldn't even register as a possible/probable cause of death to any relatively heathy individual below state pension age either in the immediate future or as they age further because in all likelihood today's 65 year olds will develop immunity to this new disease and as a consequence COVID-19 will become considerably less deadly.
Note from Hector: Robert has sent through the spreadsheet he used in case anyone wants to check or extend it.
Share this article on social media: