A group of researchers at Sweden's Uppsala University, including two Professors and two Associate Professors, who were inspired by Neil Ferguson and his team, created their own computer model, based on the Imperial College model. Their paper is here. They predicted, for various scenarios and transmission rates, between approximately 15 000 and 105 000 deaths in Sweden by May 1.
By a long way the best case scenario was the 15 000 deaths, which they thought would only happen if the Swedish government quickly introduced a UK-style lockdown before mid-April.
For the current Swedish recommendations they predicted, if those recommendations stayed in place (which they did), over 20 000 deaths by now (May 4), with the death toll rapidly rising after that.
Current Swedish death toll (4 May): 2679.
'Principal findings'
Here's their statement of their principal findings:
Predicted deaths
Here's a graph from their paper on the expected Swedish death figures:
The left (A) graph is for the scenario where there is a doubling of deaths every three days (in the early and rapidly-climbing stages), and the right-hand graph (B) is for a doubling every five days.
As you can see most of the predictions were for 80 000 to around 110 000 deaths by mid-late May.
For the current government recommendations (the blue line), they predicted over 90 000 deaths just after mid-May (two-three weeks time).
Once again: the current Swedish death toll at the time of writing is 2679.
Is the death rate rapidly increasing? No.
Is the death rate flat? No.
Is the death rate decreasing? Yes.
Comparison with the UK and USA
Bear in mind that Sweden's population is about 10 million, so Britain's population is about six and a half times as big, so these predictions are roughly in line with Ferguson's predictions for the UK, and the USA as well, on a per capita basis.
These computer-model predictions are not just wrong, they are stupendously and disastrously wrong.
ICU usage
Our modellers also got the ICU situation sensationally wrong. Remember that in their 'Statement of principal findings' they said there would be 'a 40-fold increase in demand for ICU beds'.
Here's their ICU graph: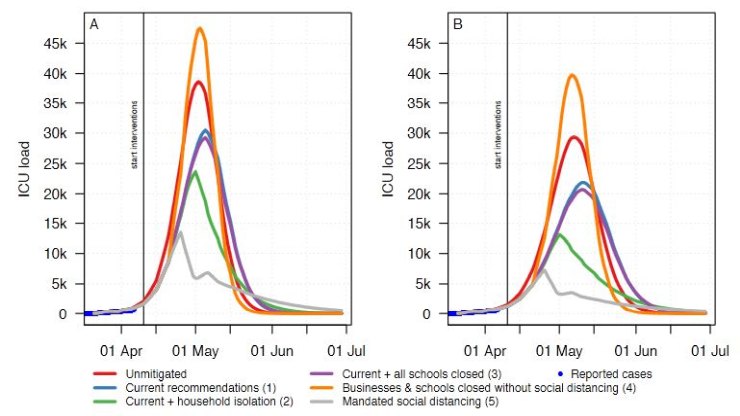 According to graph A we should have seen about 30 000 ICU beds needed now (blue line). According to graph B over 20 000.
Current number of Covid-19 patients in ICU in Sweden: 1560.
I'd say Ferguson-type models have been spectacularly debunked.
P.S. If anyone's having any trouble with my website redesign, please let me know.
Share this article on social media: